Thousands of cabinetmakers, contractors and custom furniture builders have discovered how to use CutList Plus to make their businesses more competitive. Here are some tips you can put to work today.
Master Your Pricing
For many shops, getting bids right is the single most important challenge—the one with the biggest impact on your bottom line. Bid too high and you'll lose the job. Even worse, bid too low and you lose money. (They call this the "winner's curse" for good reason!)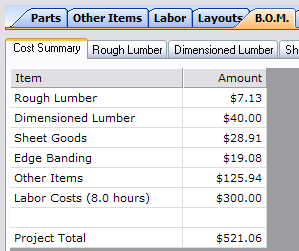 CutList Plus helps you nail down your costs up front. And then gives you the tools to build in a profit on every job. With a solid pricing system in place, you'll have the time and confidence to bid on more jobs, knowing you'll come out ahead on the winners.
There are two keys to this process. It starts with generating accurate cost estimates. CutList Plus helps you itemize all the costs in a project. Since it figures out the cutting diagrams for you, there is no need to guess how much plywood and lumber is needed. Add in supplies, labor—whatever you need for the job. You can even save standard items as reusable components for future jobs.
With a solid cost estimate in place, the next step is to build your profit into the bid. CutList Plus provides a flexible set of controls to handle this.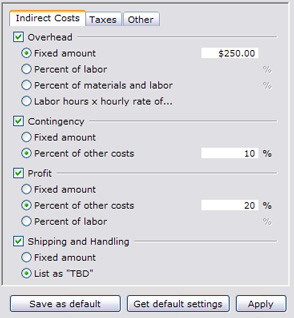 You can add a simple markup to materials, add overhead, include a contingency, or even a separate profit line item. Then save the settings to apply to the next bid. You'll always have a consistent approach, with the ability to fine-tune the numbers as each job demands.