An excellent plugin created by Swamp Road Wood Works allows you to very easily export parts from SketchUp to CutList Plus. SRWW provides a detailed user's guide that shows how to export the list of parts. Below, you can see how to import this list to CutList Plus.
The process described below is for use with CutList Plus fx Silver Edition. If you have the Gold or Platinum Edition, you should use the Direct Integration feature, which is far easier.
Instructions
Use the CutList Bridge plugin to export your list of parts from SketchUp. Be sure to select "Legacy Mode" when exporting the parts.
In CutList Plus, go to File>Import Parts...
Click the "Auto-map columns" button. It will do all the setup work for you. Then click "Finish".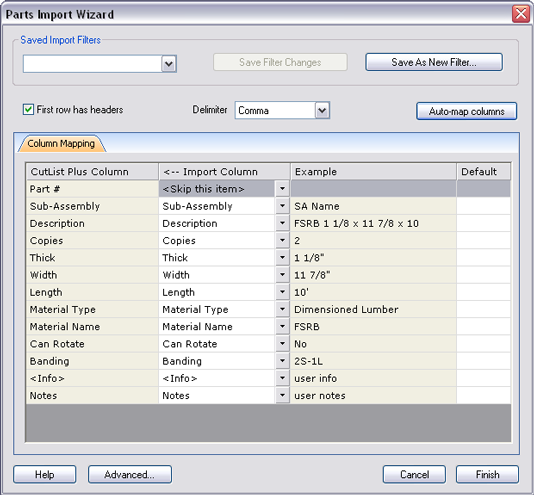 This process requires that you have CutList Bridge, available from Popular Woodworking.
More detailed information about the CutList Bridge 4 plugin is available from the developer, Swamp Road Wood Works.